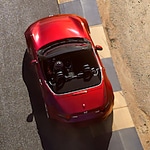 Currently one of the most popular convertible roadsters on the road, the Mazda MX-5 Miata is the epitome of design. Mazda has put a significant emphasis on the design aspects of the new MX-5 Miata, ensuring it is exactly what drivers are looking for.
The new MX-5 Miata manages to fit in today's sleek appeal while drawing inspiration from roadsters of the 1060s. Using this inspiration Mazda has managed to create a soft top, sleek lined and very captivating roadster.
Using the form of the vehicle, the Mazda MX-5 Miata is able to create function. Equipped with a steeply sloping hood, this provides maximum visibility and infers forward motion. Mazda has also used the front fenders as a reference point for where the tires are placed by adding prominent edges to them.
If you're interested in learning more or getting behind the wheel for a test drive; visit us at Piazza Mazda of Reading and we can partner you with our knowledgeable staff. They can walk you through all the features of the new Mazda MX-5 Miata and answer any questions you may have.