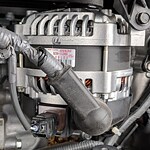 The alternator is key element of your vehicle's engine. In basic terms, the alternator is designed to provide power to the various electrical elements of your car, truck, or SUV when the engine is running. The alternator is also responsible for charging the battery.
You need to be aware of signs that your alternator is failing. These include an illuminated warning light that reads either GEN or ALT. If your lights are dim, that can also be a warning sign of an alternator issue in some cases. If you hear a screeching, whining, or growling noise when the engine is on, you have an alternator issue.
If you fear you may have some issue with your alternator, visit the friendly and knowledgeable service professionals at Piazza Mazda of Reading. We can address all of your alternator needs. In addition, we have a comprehensive service center as well.