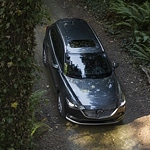 Mazda is the brand that drivers around Reading turn to when they want an engaging vehicle. This is even true of the three-row 2022 Mazda CX-9. It blends efficiency with power in a way that few other vehicles can.
A turbocharged 2.5L engine is standard for the 2022 CX-9. With regular fuel, you can expect 227 horsepower and 310 lb-ft of torque. At Piazza Mazda of Reading, we want you to know that using premium fuel will mean getting up to 250 horsepower and 320 lb-ft of torque. The CX-9 uses a six-speed automatic transmission, and all trim levels come with all-wheel drive in 2022.
Despite its power and standard AWD, the CX-9 gives you 20 mpg in the city and 26 mpg on the highway. With a 19.5-gallon gas tank, this Mazda SUV makes it easy to go long stretches without stopping to fill up.